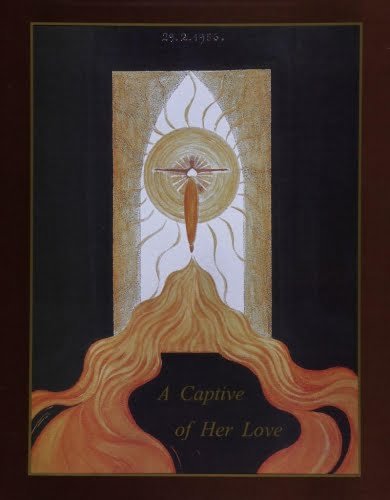 Longings for the Mother
This book is a collection of letters, poems and paintings by Janina Stroka, a Polish disciple of Sri Aurobindo and the Mother and a member of the Sri Aurobindo Ashram in Pondicherry, India, from 1957 until her passing in 1964. It is a truly fascinating book that should interest readers of many backgrounds and persuasions. Employing a primarily epistolary mode, through the use of letters, it combines several interesting categories as well: spiritual travelogue, quest narrative, period history and East-West encounter. Above all, it bridges the gap between the falsity of public image vis a vis the reality of our private self.
Janina's account of her life in Pondicherry in this book is divided into three parts. The main part of the text consists of extracts from letters written to a Dutch friend with whom Janina lived first in Palestine and later in Germany, from December 1957 to June 1958. The letters in the next section were written between 1960 and 1963 to a young Bengali, a writer and social worker. Next, the book contains selected poems and paintings by Janina and concludes with a comment by the Mother on Janina's passing.
All of these provide an invaluable glimpse into Janina's inner life in the Ashram, no less than her observation of the details of the seemingly trivial but no less significant aspects of the day to day life in the Ashram and Pondicherry during the late fifties and early sixties. We find, for instance, a perceptive description of meal-time atmosphere in the Dining Room. Those who habitually crib against the Dining Room food would do well to see Janina's sense of reverence towards this food ("We always get two bananas and a wonderful yoghurt, just a dream!"). She talks memorably of a number of events and impressions of the supramental force spread over Pondicherry, vis a vis the ubiquitous presence of the town's dirt, filth and squalour; about "bad people in the Ashram"; regarding the problem with maid-servants, their perpetual intrigues and the need to constantly humour them in order to extract work out of their reluctant selves and so on. She also records her encounters with Pavitrada, Nolinida and Medhananda and the quota of luscious mangoes from Bombay that she receives from X, a friend: "What a pity that I do not have a husband" she observes with self-deprecating humour.
Janina reveals in her engrossing accounts that despite their rootedness in reason, science and rationality, (or perhaps because of it!) a dedicated westerner, drawn powerfully to spirituality, is likely to blossom more fully vis a vis his/her eastern counterparts. Her life — full of ordeals, hardships and agony — is testimony to the indomitable human spirit forever in search of the deepest meaning of life. Her narrative offers us a lesson in humility.
(from book review by Dr Sachidananda Mohanty)
---
Book Details
Author: Janina Stroka
Print Length: 106
Publisher: Sri Aurobindo Ashram
Book format: Pdf, ePub, Mobi
Language: English
Read more
https://auro-ebooks.com/wp-content/uploads/2019/03/Janina-Stroka-Captive-of-Her-Love-cover250sq.png
250
250
Auro e-Books
https://auro-ebooks.com/wp-content/uploads/2023/06/auro-ebooks-logo.png
Auro e-Books
2019-02-18 09:17:46
2019-05-05 02:28:31
Captive of Her Love by Janina Stroka