Captive of Her Love by Janina Stroka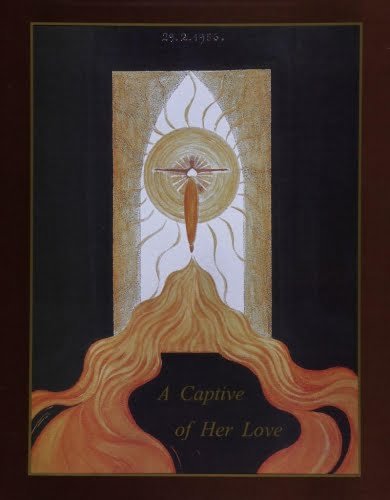 Longings for the Mother
This book is a collection of letters, poems and paintings by Janina Stroka, a Polish disciple of Sri Aurobindo and the Mother and a member of the Sri Aurobindo Ashram in Pondicherry, India, from 1957 until her passing in 1964. It is a truly fascinating book that should interest readers of many backgrounds and persuasions. Employing a primarily epistolary mode, through the use of letters, it combines several interesting categories as well: spiritual travelogue, quest narrative, period history and East-West encounter. Above all, it bridges the gap between the falsity of public image vis a vis the reality of our private self.
Janina's account of her life in Pondicherry in this book is divided into three parts. The main part of the text consists of extracts from letters written to a Dutch friend with whom Janina lived first in Palestine and later in Germany, from December 1957 to June 1958. The letters in the next section were written between 1960 and 1963 to a young Bengali, a writer and social worker. Next, the book contains selected poems and paintings by Janina and concludes with a comment by the Mother on Janina's passing.
All of these provide an invaluable glimpse into Janina's inner life in the Ashram, no less than her observation of the details of the seemingly trivial but no less significant aspects of the day to day life in the Ashram and Pondicherry during the late fifties and early sixties. We find, for instance, a perceptive description of meal-time atmosphere in the Dining Room. Those who habitually crib against the Dining Room food would do well to see Janina's sense of reverence towards this food ("We always get two bananas and a wonderful yoghurt, just a dream!"). She talks memorably of a number of events and impressions of the supramental force spread over Pondicherry, vis a vis the ubiquitous presence of the town's dirt, filth and squalour; about "bad people in the Ashram"; regarding the problem with maid-servants, their perpetual intrigues and the need to constantly humour them in order to extract work out of their reluctant selves and so on. She also records her encounters with Pavitrada, Nolinida and Medhananda and the quota of luscious mangoes from Bombay that she receives from X, a friend: "What a pity that I do not have a husband" she observes with self-deprecating humour.
Janina reveals in her engrossing accounts that despite their rootedness in reason, science and rationality, (or perhaps because of it!) a dedicated westerner, drawn powerfully to spirituality, is likely to blossom more fully vis a vis his/her eastern counterparts. Her life — full of ordeals, hardships and agony — is testimony to the indomitable human spirit forever in search of the deepest meaning of life. Her narrative offers us a lesson in humility.
(from book review by Dr Sachidananda Mohanty)
---
Book Details
Author: Janina Stroka
Print Length: 106
Publisher: Sri Aurobindo Ashram
Book format: Pdf, ePub, Mobi
Language: English

---
Book Download
---
Contents
Publisher's Note
Introduction
A Captive of Her Love
Letters to a Young Bengali
Selected Poems
The Mother on Janina's Passing
Drawings and Paintings
---
Sample
Captive of Her Love
There is a great peace in me and I have inwardly asked the Mother to write this letter too, to help me. Her living and pulsating consciousness is just simply doing everything here and I experience it that there is just no place for my own action. I have only to step aside and hold with ardent aspiration my mind, life and body imploring Her to do Her Will with them. There can be no doubt that the Divine has directly come into the human life in Sri Aurobindo and the Mother. Anyway there is no doubt in me and for this Truth I am continuously giving thanks.
I arrived in Pondicherry yesterday, 17.12, early in the morning. The brother of the sadhak who met me in the port of Bombay came to the train — another brother for me. The Radiation works through them. He brought me with all my luggage (which has during all the journey never been opened by the customs!) to a house which is supposed to be my home now and soon the place too of my work. It is a house newly purchased by the Ashram for a kind of nursing home for patients after operations. Nahar has told me that Mother wants to put me in charge of this home. The pressure of Her Force is so immense that it is clear that only She will be doing Her work in the house and I am only praying that I may never forget it and learn more and more to be a channel only. This house is in the middle of houses which do not belong to the Ashram. The Ashram forms a third of Pondicherry, it means that Ashram dots cover, in some places more condensed, in others less, or even sparsely — but cover all of Pondicherry like a fantastic creature spreading Her limbs to swallow the human by the supramental. In practice it means that a noisy Indian restaurant is just beside the dining hall, that loud ugly music sounds from a cafe near our playground, that black pigs with their small ones and naked, unspeakably dirty children raise clouds of dust and dirt on the street where my house stands. And there is something so great in it, in this stream of Love spreading, that I cannot express it.
Yesterday was a day when Mother was giving sweets to Her children, to all the members of the Ashram. She does not give flowers now and does not usually give sweets or nuts either as Her work with the spreading of the Ashram is growing. So I was very happy that She was exceptionally doing it on that day. Pavitra (Monsieur Saint-Hilaire) brought me to Her and I only know that I was Her child and that two streams of vibrating Force of Her Grace penetrated into my eyes, to my soul, from Her eyes. So Her Grace is acting in Her children. Now I know that there is no other way for the human being but only to be, really — in just this sense of the word — a child. And many of these most wonderful people here, who help Her in Her work, have really this attitude to Her, to the Divine. It cannot be a different attitude. It is impossible. Yes, She makes an impression of being ageless, as you said you feel it, and Her smile and face just create an indescribable happiness.
This morning I went (as the members and many people from the town do every day) to the street on which Her balcony is built and where She gives Her darshan every day. Usually it is at 6.15, today it was some minutes later. One would be doing harm to oneself if one did not become a child again. And the great adoration in the eyes of the sadhaks is only the most natural thing. This is very far from sentimentality. The balcony is not high, we stood very near to Her. She smiled for some time looking us over and then looked at the houses around, the town and the sky. She was as if blessing all the world — so I felt — and She was doing it for quite a long time, maybe ten minutes, but I could not tell. I could not look at Her all the time, I shut my eyes and prayed that I learn to open to the Descent and to adore Her.
The evening meditation is about at 8 or later and the duration differs between a few minutes and twenty minutes. I think one has to learn to be able to be near Her, anyway so I feel; it is the process of being able to be near Her as She is in the human body. Until now I approached Her only as the Divine in my prayer.
Now, it is interesting that Nahar told me first thing that there are also bad people in the Ashram and that I have to be careful. Mother is keeping them as they belong to life and their bad will cannot oppose Her.
About Pavitra and Sri Aurobindo's Force working in the Ashram I shall write next time.
---
About Author: Janina Stroka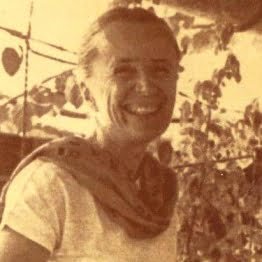 Janina Stroka, a Polish disciple of Sri Aurobindo and the Mother and a member of the Sri Aurobindo Ashram in Pondicherry, India, from 1957 until her passing in 1964.

Poet, painter, educator and spiritualist, Janina Stroka was born in Lyov, Poland on 18 July 1909, the younger of two daughters. Her parents were both professionals: father Jan Stroka was an engineer and mother Jadwiga Krasuka, a teacher.

With the Nazi annexation of Poland and the beginning of persecution, Janina joined an exodus of refugees and fled to Slovakia and then to other countries such as Hungary, Yugoslavia and Turkey, finally reaching Palestine. In Jerusalem, she happened to attend a lecture on Sri Aurobindo and discovered miraculously The Life Divine in a second-hand bookshop. It is then that she began her career as a painter and her real mission in life: spirituality. Initially, Janina looked after a boarding school for Arab girls in Jerusalem. In 1948, World War II over, and the rise of Zionism in Palestine for Israel, Janina, a non Jew, went back to Poland, this time to the equally oppressive and unwelcome arms of Soviet Communism. She fell ill and later, destiny brought her through a long and arduous journey to Pondicherry. It is here that she became, in her immortal words "a captive of the Mother's Love". From her arrival on 17 December 1957 till her untimely passing on 17 July 1964, her 55th birth anniversary, Janina was to remain under the care of the Mother's everlasting love. She took charge of the Nursing Home for surgical cases. Yet, her personality was versatile: she took keen interest in nursing and painting, was involved in educational experiments and wrote poems in English and French.

https://auro-ebooks.com/wp-content/uploads/2019/03/Janina-Stroka-Captive-of-Her-Love-cover250sq.png
250
250
Auro e-Books
https://auro-ebooks.com/wp-content/uploads/2023/06/auro-ebooks-logo.png
Auro e-Books
2019-02-18 09:17:46
2019-05-05 02:28:31
Captive of Her Love by Janina Stroka