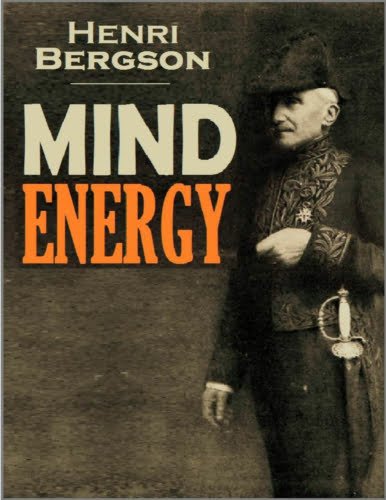 Mind-Energy
Lectures and Essays
In these essays, Bergson writes, concerning the idea of parallelism between mind and body:
"Consciousness tells no more than what is going on in the brain, it only tells it in a different language."  There can be no doubt that the origin of this thesis is entirely metaphysical. It comes to us in a direct line from the Cartesian philosophy of the seventeenth century. …I believe that the facts, examined without prejudice and without the bias towards a mathematical mechanism, suggest a more subtle hypothesis concerning the correspondence between the psychic (ie., mental) and the cerebral state. The latter only express the action which is prefigured in the former. …for to the same cerebral state there may equally well correspond many different psychic facts" (p. 144).
In his characteristically clear and precise manner Bergson pursues in these essays the elusive problem of the mind-body relationship which is once again at the forefront of both the science and the philosophy of consciousness today. The solution that he suggests is that these are two different approaches to the understanding of reality, each describing an aspect of that reality – one material and the other spiritual. Science tries to grasp the reality by means of physical observation and measurement; the philosophical approach tries to grasp reality by means of intuition and ideation. To fail to make the distinction necessarily leads to contradiction and error.
Bergson published these essays in 1919, more than 20 years after Matter and Memory (1896) and Creative Evolution (1907), at a time when his reputation as the leading philosopher of the day had spread throughout both the physical and the spiritual world. He was president of the Academie des science (France) and the Society for Psychical Research (UK), representing the two approaches to knowledge. And he had lectured at Oxford (UK) and Columbia (USA) universities. He was fluent in English and had decided as a young university student to become a citizen of France rather than of England.
The fact that Bergson's work is currently enjoying a revival in both science and philosophy, due to the widespread interest in the study of  "consciousness", along with the concurrence and convergence of his philosophy with that of Sri Aurobindo, suggests that these essays may be important to the understanding of both of these philosophers of Intuition and Consciousness, as well as to better understanding the relevance of their thought in the world today.
https://auro-ebooks.com/wp-content/uploads/2020/06/Henri-Bergson-Mind-Energy_001_sq350.png
350
350
Auro e-Books
https://auro-ebooks.com/wp-content/uploads/2023/06/auro-ebooks-logo.png
Auro e-Books
2020-06-06 03:21:43
2022-06-25 00:29:03
Mind-energy: Lectures and Essays (1920) by Henri Bergson