Evening Talks With Sri Aurobindo (Recorded By A. B. Purani)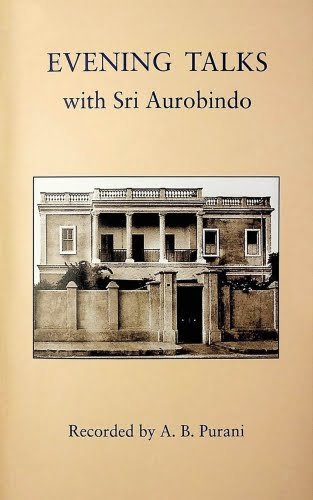 Evening Talks With Sri Aurobindo
Recorded By A. B. Purani
Evening Talks is A.B. Purani's record of informal conversations between Sri Aurobindo and his disciples during two periods: 1923–1926, when the talks were held on the verandahs of the houses in which Sri Aurobindo stayed, and 1938–1943, when they took place in Sri Aurobindo's room. The talks cover a wide range of topics—yoga, philosophy, art, poetry, psychology, science, and contemporary history, notably India's struggle for independence and the Second World War. They reveal something of the versatile nature of Sri Aurobindo's personality and his wide-ranging, profound knowledge of life as well as a glimpse of the heights of spiritual consciousness he embodied and through which he acted on both world events and on the natures of those drawn to his yoga.
---
Book Details
Author: Sri Aurobindo
Print Length: 836 pages
Publisher: Sri Aurobindo Ashram
Book format: PDF, ePub, Kindle
Language: English
---
Book Download
---
Contents
Introduction
1. Meeting the Master
2. On Books and Letters
On Books
On Letters
3. On Medicine
4. On Art
5. On Poetry
6. On Beauty
7. On Congress and Politics
8. On Non-Violence
9. On Sadhana
10. On Vedic Interpretation
11. On Education
12. On Miracles
13. On Psychology
14. On Movements
15. On Gods and Asuras
16. Talks of 15 August 1923-1926
17. Talks of December 1938
18. Talks of January 1939
19. Talks of February-May 1939
20. Talks of November-December 1939
21. Talks of 1940
22. Talks of 1941-1943
Life Sketch of A. B. Purani
Note on the Text
List of Topics in Each Talk
---
Book Review
Evening Talks With Sri Aurobindo
For the seekers after the Divine and the travelers of the inner world, nothing is more invaluable than sharing proximity with the Guru, the Mystic, the Prophet and the Realized Being. That is why perhaps, all great spiritual traditions of the world, invariably accord a pride of place to the account of disciples, conversation with the Master: the Circle of a Christ, Ramakrishna, Ramana Maharshi or Sri Aurobindo.
It is in this sense that A. B. Purani's Evening Talks with Sri Aurobindo is of special interest and appeal to the disciples and admirers of Sri Aurobindo. "Guru griha vasa" is an old Indian tradition. In the hand of Purani, the talks become the Upanishadic "Aranyaka" — the ancient teachings in the forest groves.
An outstanding writer, patriot, nationalist and spiritualist, A. B. Purani visited Sri Aurobindo Ashram at the age of twenty-three, and finally settled there five years later. From 1938 to 1950, he had the privilege of serving Sri Aurobindo as a personal attendant. Towards the end of his life, he spread the message of the Master in India, Africa, Europe and the United States of America before passing away at the age of seventy-one.
Evening Talks, offers us a precious "glimpse of Sri Aurobindo's external personality and gives some idea of its richness, many-sidedness and uniqueness. His versatile genius, his penetrating intellect, his extraordinary power of expression, his intense sincerity, his utter singleness of purpose, his sense of realism, his understanding and command of world events in the political, social and cultural spheres — all are well-illustrated in the talks."
Purani offers two timely caveats to the talks. He reminds us at the outset that "Sri Aurobindo is not responsible for these records as he had no opportunity to see them". That is of course the honesty and humility of the seeker par excellence. However, that by itself should not minimize the worth of the volume. Going through the book we can only marvel at the painstaking manner in which the compiler has reconstructed the conversations down to the smallest details. A rare feat indeed, carried out without any aid of a recording machine. Secondly, Sri Aurobindo, as Purani rightly observes, "was never a social man in the current sense of the term and definitely he was not a man of the world."
Divided into two main phases, 1923-1926 and 1938-43, the participants of the talks comprise some of the leading lights of Sri Aurobindo Ashram as well as contemporary celebrities: Barindra Kumar Ghose, Nolini Kanta Gupta, Bijoy Kumar Nag, K. Amrita, Champaklal, Pavitra, Anilbaran and Purani himself. We see Sri Aurobindo in the company of and association with stalwarts of the age: C. R. Das, Lala Lajpat Rai, Sarala Devi, Dr. Munje, Tagore, Sylvain Levy, Subramanya Bharati, V. Ramaswamy Aiyengar. The topics cover an incredibly wide range: from meeting the Master at Pondicherry to books, medicine, art, poetry, beauty, Congress and politics, non-violence and sadhana, Vedic interpretation, education, miracles, psychology, gods and hostile forces. … The period from 1938 to 1943 that nearly coincided with the outbreak of World War II will undoubtedly be of special interest for the light they shed on Sri Aurobindo's views on the momentous world events.
It is impossible to delineate, in the span of a brief note, the vast spectrum of Sri Aurobindo's interest, his power of understanding, the remarkable reasoning, intuition and sharpness of his perceptions and above all, the unique combination of empathy and detachment that he constantly exhibited. For the initiate and the devout, the talks contain many gems: We learn of Sri Aurobindo's views on the ideal spiritual community: "Agriculture is the mainstay. The community must try to be self-reliant with regard to food" (p. 23). His view on the importance of Indian villages is equally noteworthy in the light of what Gandhi thought of them. "I do not like people trying to picture future India as a mass of villages only. The village has a lot of life problems and the villages must be rescued from their living deaths. But they cannot be leaders of thought." Likewise, we marvel at Sri Aurobindo's unshakable faith in the inevitability of India's freedom as early as 1918:
"Suppose an assurance is given to you that India will be Free?"
"Who can give such an assurance?"
Again he remained silent for three or four minutes. Then he looked at me and added: "Suppose I give you the assurance?" (p. 17)
Similarly, we take note of the difference Sri Aurobindo had with the Gandhian cult of non-violence: "Suppose", he asked, "there is an invasion of India by the Afghans?" (p.54)
Purani's concerns with spiritual matters is constantly matched by matters mundane, in keeping perfectly with the Aurobindonian approach. Consider, for instance, a rare contemporary picture of Pondicherry:
"Pondicherry as a city was lethargic, with a colonial atmosphere — an exhibition of the worst elements of European and Indian culture. The market was dirty and stinking and the people had no idea of sanitation. The sea-beach was made filthy by them. Smuggling was the main business" (p. 20).
Another virtue of the book is the manner in which Purani provides all the historical facts and constructs the setting to the talks. We learn that in 1913 Sri Aurobindo shifted to Rue Francois Martin No.41 where he received visitors between 9 and 10.30 AM. In 1922, Sri Aurobindo and the Mother removed to Rue de la Marine, No.9, where the informal sittings after meditation continued. Purani's eye for details is hard to match: Upstairs in No.9, Rue de la Marine "was a less broad verandah than at the Guest House, a little bigger table in front of the central door out of three, and a broad Japanese chair, the table covered with a better cloth than the one in the Guest House, a small flower vase, an ash-tray, a block calendar indicating the date and an ordinary time piece, a number of chairs in a line." After November 24, 1926, the sittings used to stretch right upto one o'clock at night.
And finally, those who think Sri Aurobindo is a somber personality devoid of humour, the talks are a boundless reservoir of hilarious accounts and extraordinary play of wit and humour. Take for instance the following:
Kasturbhai's Arvind Mills of Ahmedabad was using Sri Aurobindo's pictures on its products without any permission and without paying any consideration. One of the pictures was shown to Sri Aurobindo and it was represented to him that legal action could be taken against the Mills. On seeing the picture, Sri Aurobindo said:
"The other one we saw made me look like a criminal. This one makes me look like an imbecile — not only in the eyes but around the mouth too. How can they do such things?" (p.758)
Similarly you may consider the following:
Disciple: When X was working here some new sadhak met him and asked him : "Who are the advanced sadhaks here?"—He replied : "I don't know." Then when he was repeatedly asked he said : "I will tell you, but you must not tell it to anybody. There are only two advanced sadhaks here—you and I".
Sri Aurobindo: This instance of "two" reminds me of a joke of Hugo. Balzac said to a friend that there are two men who know and write French: myself and Hugo. When that was reported to Hugo he said: "That is all right, but why Balzac?"
One could go on expatiating on the wealth of this rare book that rivals the best of similar accounts such as the one provided by Nirodbaran. What could however, add to a nearly flawless work is an introductory essay with a longer note on the compiler himself so as to place the work firmly in the historical context. That is of course a matter for the future.
If you are thinking of a good new year gift for yourself, then go ahead—buy a copy of Evening Talks with Sri Aurobindo. Both in style and content the book could turn out to be your best reading for the year.
— Dr Sachidananda Mohanty
(Associate Professor,
Department of English,
University of Hyderabad)
December 1995
…
---
About Author: A. B. Purani
Ambalal Balkrishna Purani was born in Surat, Gujarat, on 26 May 1894. As a young man he was inspired by Sri Aurobindo, who was then a prominent leader of the Indian freedom movement. Resolved to help free his country from British rule, Purani helped to launch a youth movement that gained widespread popularity in Gujarat. At the age of twenty-four he visited Sri Aurobindo in Pondicherry, and settled there five years later, in 1923.

A. B. Purani was a prolific writer in Gujarati and translated many of Sri Aurobindo's writings into that language. He also wrote several books in English, including The Life of Sri Aurobindo. From 1938 to 1950 Purani served as one of Sri Aurobindo's personal attendants. Towards the end of his life he toured India, Africa, Europe and the United States, speaking to those interested in Sri Aurobindo's vision of life. He passed away in Pondicherry on 11 December 1963, at the age of seventy-one.
https://auro-ebooks.com/wp-content/uploads/2019/11/AB-Purani-Evening-Talks-with-Sri-Aurobindo_sq250.jpg
250
250
Auro e-Books
https://auro-ebooks.com/wp-content/uploads/2023/06/auro-ebooks-logo.png
Auro e-Books
2019-11-24 11:04:04
2019-11-24 11:25:09
Evening Talks With Sri Aurobindo (Recorded By A. B. Purani)