New Correspondences of the Mother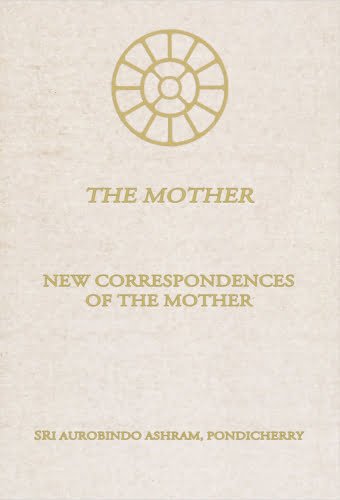 New Correspondences of the Mother
This book contains the Mother's correspondence with twelve disciples: Dyuman, Champaklal, Dilip Kumar Roy, Tara Patel, Ambu, Parichand, Jayantilal, Prithwi Singh, Indra Sen, Surendranath Jauhar, Maude Smith, and Pradyot. A brief life sketch of the disciple precedes each correspondence, and the letters are presented in chronological order.
These correspondences were not published as part of the Collected Works of the Mother, but appeared later in various issues of the Bulletin of Sri Aurobindo International Centre of Education or in independent volumes connected to a few of the disciples. The correspondence with Pradyot is published here for the first time.
---
Book Details
Author: The Mother
Print Length: 646
Publisher: Sri Aurobindo Ashram
Submitted by: Sergei
Book format: Pdf, ePub, mobi (Kindle)
Language: English

---
Book Download
---
Contents
Series One. Correspondence with Dyuman. (1929-1937)
Series Two. Correspondence with Champaklal. (1930-1973)
Series Three. Correspondence with Dilip Kumar Roy. (1931-1951)
Series Four. Correspondence with Tara Patel. (1932-1942)
Series Five. Correspondence with Ambu. (1933-1941)
Series Six. Correspondence with Parichand. (1936-1961)
Series Seven. Correspondence with Jayantilal. (1936-1970)
Series Eight. Correspondence with Prithwi Singh. (1938-1967)
Series Nine. Correspondence with Indra Sen. (1945-1965)
Series Ten. Correspondence with Surendranath Jauhar. (1951-1972)
Series Eleven. Correspondence with Maude Smith. (1955-1970)
Series Twelve. Correspondence with Pradyot. (1963-1972)
---
Sample
New Correspondences of the Mother
Series One. Correspondence with Dyuman
Born on 19 June 1903, the Gujarati disciple Dyuman (Chunilal Desai) joined the Sri Aurobindo Ashram on 11 July 1927 at the age of twenty-four. From the beginning he worked in the Dining Room, serving rice and purchasing food. In 1930 the Mother placed him in charge of the Dining Room, a position he held for more than sixty years. He also started Gloria Land, one of the largest Ashram farms. When the Ashram Trust was formed in 1954, the Mother appointed him as one of the five trustees; later he became the managing trustee of the Ashram. Active till the end, Dyuman passed away on 19 August 1992 at the age of eighty-nine.
Dyuman's correspondence deals largely with the management of the Dining Room from 1929 to 1937.
Mother,
I had no intention of violating Your orders. The wiping was already finished by the time I received Your last order at 5 p.m. or so. Mother, I am at Your feet for any punishment for violating Your orders even unconsciously.
Why punishment, my child?
I never thought of such a thing! I never thought even that you had violated any rules. The whole thing is a misunderstanding.
You must know that I trust you and have full confidence in your earnestness and your goodwill. It is on that ground that we are working together and also that I let you know whenever there is something that has to be corrected.
Never doubt my love.
12 June 1929
…
https://auro-ebooks.com/wp-content/uploads/2022/01/New-Correspondences-of-the-Mother-cover350sq.png
350
350
Auro e-Books
https://auro-ebooks.com/wp-content/uploads/2023/06/auro-ebooks-logo.png
Auro e-Books
2022-01-29 04:55:57
2022-01-29 04:55:57
New Correspondences of the Mother