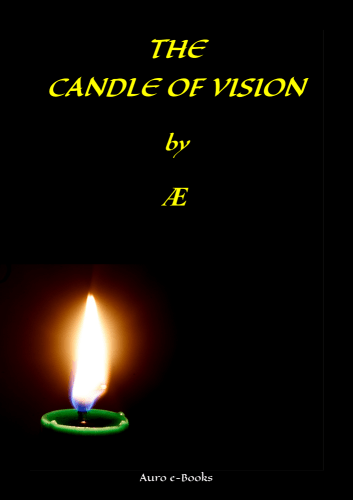 The Candle of Vision
In Letters on Poetry and Art, Sri Aurobindo spoke of A. E. many times as a poet and a mystic. In a letter dated 5 February 1932, Sri Aurobindo said:
"A. E.'s remarks about "immensity" etc. are very interesting to me; for these are the very words, with others like them, that are constantly recurring at short intervals in my poetry when I express, not spiritual thought, but spiritual experience. I knew perfectly well that this recurrence would be objected to as bad technique or an inadmissible technique; but this seems to me a reasoning from the conventions of a past order which cannot apply to a new poetry dealing with spiritual things. A new art of words written from a new consciousness demands a new technique. A.E. himself admits that this rule makes a great difficulty because these "high light" words are few in the English language. This solution may do well enough for him, because the realisations which they represent are in him mental realisations or intuitions occurring on the summits of the consciousness, rare "high lights" over the low tones of the ordinary natural or occult experience (ordinary, of course, to him, not to the average man), and so his solution does not violate the truth of his vision, does not misrepresent the balance or harmony of its natural tones. But what of one who lives in an atmosphere full of these high lights—in a consciousness in which the finite, not only the occult but even the earthly finite is bathed in the sense of the eternal, the illimitable and infinite, the immensities or intimacies of the timeless. To follow A.E.'s rule might well mean to falsify this atmosphere, to substitute a merely aesthetic fabrication for a true seeing and experience. Truth first—a technique expressive of the truth in the forms of beauty has to be found, if it does not exist. It is no use arguing from the spiritual inadequacy of the English language; the inadequacy does not exist and, even if it did, the language will have to be made adequate. It has been plastic enough in the past to succeed in expressing all that it was asked to express, however new; it must now be urged to a new progress. In fact, the power is there and has only to be brought out more fully to serve the full occult, mystic, spiritual purpose."
This book by Irish author, poet, painter and mystic George William Russell, is a set of transcendent essays on Celtic mysticism. Known by his pen name AE (which is short for Aeon), Russell was friends with many other figures of the Celtic renaissance of the early 20th century, including Y.B. Yeats, and James Stephens.
The Candle of Vision describes Russells' luminous excursions into the otherworld, including clairvoyant and prophetic visions, precognition of Gnostic concepts, past-life and astral journeys, and, always, heightened awareness of the beauty that pervades mundane reality. Russell describes encounters with what today we would call UFOs, and attempts to construct a private Kabala based on an intuitive reconstuction of a primal language and alphabet. Lastly, he attempts to put a mystical gloss on the primeval Celtic pagan deities. Lovers of Celtic lore and ecstatic mystic literature will both find much to enjoy in this short book.
---
Book Details
Author: George William Russell
Print Length: 63 (Taken number pages in pdf document)
Publisher: Auro e-Books
Original source: https://archive.org/details/candleofvision00ae18
Contributor: Blindshiva
Book format: PDF, ePub, Kindle
Language: English
---
Book Download
---
Contents
Retrospect
The Earth Breath
The Slave of the Lamp
Meditation
The Many-Coloured Land
Analytic
The Mingling of Natures
The Memory of Earth
Imagination
Dreams
The Architecture of Dream
Have Imaginations Body?
Intuition
The Language of the Gods
Ancient Intuitions
Power
The Memory of the Spirit
Celtic Cosmogony
The Celtic Imagination
Earth
About the Author
---
Book Sample
The Candle of Vision
While the child is still in its mother's arms it is nourished by her, yet it does not know it is a mother which feeds it. It knows later in whose bosom it has lain. As the mother nourishes the body so the Mighty Mother nourishes the soul. Yet there are but few who pay reverence where reverence is due, and that is because this benign deity- is like a mother who indulges the fancies of her children. With some she imparts life to their own thoughts. Others she endows with the vision of her own heart. Even of these last some love in silence, being afraid to speak of the majesty which smiled on them, and others deceived think with pride: "This vision is my own."
I was like these last for a long time. I was aged about sixteen or seventeen years, when I, the slackest and least ideal of boys, with my life already made dark by those desires of body and heart with which we so soon learn to taint our youth, became aware of a mysterious life quickening within my life. Looking back I know not of anything in friendship, anything I had read, to call this forth. It was, I thought, self-begotten. I began to be astonished with myself, for, walking along country roads, intense and passionate imaginations of another world, of an interior nature began to overpower me. They were like strangers who suddenly enter a house, who brush aside the doorkeeper, and who will not be denied. Soon I knew they were the rightful owners and heirs of the house of the body, and the doorkeeper was only one who was for a time in charge, who had neglected his duty, and who had pretended to ownership. The boy who existed before was an alien. He hid himself when the pilgrim of eternity took up his abode in the dwelling. Yet, whenever the true owner was absent, the sly creature reappeared and boasted himself as master once more.
That being from a distant country who took possession of the house began to speak in a language difficult to translate. I was tormented by limitations of understanding. Somewhere about me I knew there were comrades who were speaking to me, but I could not know what they said. As I walked in the evening down the lanes scented by the honeysuckle my senses were expectant of some unveiling about to take place, I felt that beings were looking in upon me out of the true home of man. They seemed to be saying to each other of us, " Soon they will awaken; soon they will come to us again," and for a moment I almost seemed to mix with their eternity. The tinted air glowed before me with intelligible significance like a face, a voice. The visible world became like a tapestry blown and stirred by winds behind it. If it would but raise for an instant I knew I would be in Paradise. Every form on that tapestry appeared to be the work of gods. Every flower was a word, a thought. The grass was speech; the trees were speech; the waters were speech; the winds were speech. They were the Army of the Voice marching on to conquest and dominion over the spirit; and I listened with my whole being, and then these apparitions would fade away and I would be the mean and miserable boy once more. So might one have felt who had been servant of the prophet, and had seen him go up in the fiery chariot, and the world had no more light or certitude in it with that passing. I knew these visitations for what they were and named them truly in my fantasy, for writing then in the first verses of mine which still seem to me to be poetry, I said of the earth that we and all things were her dreams:
She is rapt in dreams divine.
As her clouds of beauty pass
On our glowing hearts they shine,
Mirrored there as in a glass.
Earth, whose dreams are we and they,
With her deep heart's gladness fills
All our human lips can say
Or the dawn-fired singer trills.
…
---
George William Russell (10 April 1867 – 17 July 1935) who wrote with the pseudonym Æ (sometimes written AE or A.E.), was an Anglo-Irish writer, editor, critic, poet, artistic painter and Irish nationalist. He was also a writer on mysticism, and a central figure in the group of devotees of theosophy which met in Dublin for many years.
Russell was born in Lurgan, County Armagh, (not as is often supposed in Portadown), second son of Thomas Russell and Mary Armstrong. His father, the son of a small farmer, became an employee of Thomas Bell and Co, a prosperous firm of linen drapers. The family relocated to Dublin, where his father had a new offer of employment, when he was eleven years old. The death of his much loved sister Mary, aged 18, was a blow from which it took him a long time to recover. He was educated at Rathmines School and the Metropolitan School of Art, where he began a lifelong friendship with William Butler Yeats. In the 1880s, Russell lived at the Theosophical Society lodge at 3, Upper Ely Place, sharing rooms with H. M. Magee, the brother of William Kirkpatrick Magee.
Russell started working as a draper's clerk, then for many years worked for the Irish Agricultural Organisation Society (IAOS), an agricultural co-operative society initiated by Horace Plunkett in 1894. In 1897 Plunkett needed an able organiser and W. B. Yeats suggested Russell, who became Assistant Secretary of the IAOS.
In 1898 he married Violet North; they had two surviving sons, Brian and Diarmuid, as well as a third son who died soon after birth. Frank O'Connor, who was a close friend of Russell's in his later years, remarked that his family life was something of a mystery even to those who knew him best: O'Connor noticed that he never spoke about his wife and seemed to be at odds with his sons (although O'Connor himself liked both of them). While his marriage was rumoured to be unhappy, all his friends agreed that Violet's death in 1932 was a great blow to Russell.
He was an able lieutenant to Plunkett, and travelled extensively throughout Ireland as a spokesman for the IAOS; he was mainly responsible for developing the credit societies and establishing Co-operative Banks in the south and west of the country, the numbers of which increased to 234 by 1910. Russell and Plunkett made a good team, with each gaining much from the association with the other. As an officer of the IAOS he could not express political opinions freely, but he made no secret of the fact that he considered himself a Nationalist. During the 1913 Dublin Lock-out he wrote an open letter to the Irish Times criticizing the attitude of the employers, then spoke on it in England and helped bring the crisis to an end.
He was an independent delegate to the 1917–18 Irish Convention in which he opposed John Redmond's compromise on Home Rule. He became involved in the anti-partition Irish Dominion League when Plunkett founded the body in 1919.
Russell was editor from 1905 to 1923 of the Irish Homestead, the journal of the IAOS. His gifts as a writer and publicist gained him a wide influence in the cause of agricultural co-operation. He then became editor of the The Irish Statesman, the paper of the Irish Dominion League, which merged with the Irish Homestead, from 15 September 1923 until 12 April 1930. With the demise of this newspaper he was for the first time of his adult life without a job, and there were concerns that he could find himself in a state of poverty, as he had never earned very much money from his paintings or books; at one point his son Diarmuid was reduced to selling off early drafts of his father's works to raise money, rather to the annoyance of Russell, who accused Diarmuid, with whom his relations were rarely good, of "raiding the wastepaper baskets". Unbeknownst to him meetings and collections were organized and later that year at Plunkett House he was presented by Father T. Finlay with a cheque for £800. This enabled him to visit the United States the next year, where he was well received all over the country and his books sold in large numbers.
He used the pseudonym "AE", or more properly, "Æ". This derived from an earlier Æon signifying the lifelong quest of man, subsequently abbreviated.
His first book of poems, Homeward: Songs by the Way (1894), established him in what was known as the Irish Literary Revival, where Æ met the young James Joyce in 1902 and introduced him to other Irish literary figures, including William Butler Yeats. He appears as a character with Lizzie Twigg in the "Scylla and Charybdis" episode of Joyce's Ulysses, where he dismisses Stephen's theories on Shakespeare. His collected poems was published in 1913, with a second edition in 1926.
His house at 17 Rathgar Avenue in Dublin became a meeting-place at the time for everyone interested in the economic and artistic future of Ireland: his Sunday evenings "at home" were a notable feature of Dublin literary life. Michael Collins, the effective leader of the new Government, became acquainted with Russell in the last months of his life: Oliver St. John Gogarty, a regular guest at Russell's "at homes", believed that these two men, so utterly unalike, nonetheless had a mutual respect.
Russell's generosity and hospitality were legendary: Frank O'Connor fondly recalled "the warmth and kindness, which enfolded you like an old fur coat". He was the most loyal of friends, and in the notoriously fractious Dublin literary world Russell tried to keep the peace between his endlessly quarrelling colleagues: even the abrasive Seamus O'Sullivan could be forgiven a great deal, simply because "Seamus drinks too much". His interests were wide-ranging; he became a theosophist and wrote extensively on politics and economics, while continuing to paint and write poetry. Æ claimed to be a clairvoyant, able to view various kinds of spiritual beings, which he illustrated in paintings and drawings.
He was noted for his exceptional kindness and generosity towards younger writers: Frank O'Connor termed him "the man who was the father to three generations of Irish writers", and Patrick Kavanagh called him "a great and holy man". P.L. Travers, famous as the creator of Mary Poppins, was yet another writer who gratefully recalled Russell's help and encouragement.
Russell, who had become increasingly unhappy in the Irish Free State (which according to Yeats he called "a country given over to the Devil"), moved to England soon after his wife's death in 1932. Despite his failing health he went on a final lecture tour in the United States, but returned home utterly exhausted. He died of cancer in Bournemouth in 1935. His body was brought back to Ireland and he had an impressive funeral, which was attended by Éamon de Valera and many other leading figures in Irish life, Catholic as well as Protestant. He is buried in Mount Jerome Cemetery, Dublin.
https://auro-ebooks.com/wp-content/uploads/2016/12/A5-Cover-250.png
250
250
Auro e-Books
https://auro-ebooks.com/wp-content/uploads/2023/06/auro-ebooks-logo.png
Auro e-Books
2016-12-07 18:03:25
2019-05-05 03:02:04
The Candle of Vision