The Golden Path: Interviews with Disciples of Sri Aurobindo and The Mother by Anie Nunnally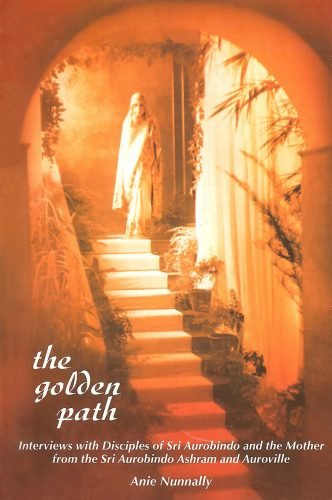 The Golden Path
Interviews with Disciples of Sri Aurobindo and The Mother
from the Sri Aurobindo Ashram and Auroville
World-teachers Sri Aurobindo and The Mother have laid down a revolutionary spiritual path envisaging as its goal a Divine Life on earth.
During their lifetimes, a growing number of people gathered around them to receive guidance in their yoga of integral transformation. The author herself spent several years at the Sri Aurobindo Ashram while The Mother was alive and formed lasting bonds within the collective life there.
Today the Gurus are no longer in the physical but increasing numbers worldwide are being drawn to their yoga. Their ashram in Pondicherry, India and the nearby planetary city of Auroville continue to be vibrant expressions and embodiments of their teachings. Today, the recipients of their living Grace are anchors of the Light and are empowered to convey the contagion of their inspiration to countless many who have never been in their physical presence.
The author has interviewed twelve such disciples and, in these interviews, has drawn out the thread of the spiritual life that has grown in them through their contact with the Masters. Their sharing opens up multiple windows into a world of beauty, delight and joy kindled by the practice of Integral Yoga and graced by Sri Aurobindo and The Mother.
---
Book Details
Author: Anie Nunnally
Print Length: 264
Publisher: East-West Cultural Center
Contributors: Blindshiva, Krishna
Book format: Pdf, ePub, mobi
Language: English

---
Book Download
---
Contents
Foreword
Author's Commentary
Two Nonagenarians
Amal Kiran
Udar Pinto
Gauri Pinto
Tehmi Masalawalla
Sunanda Poddar
Richard Pearson
Jhumur Bhattacharya
Anurakta
Anu Purani
Aster Patel
Krishna Tewari
Amrit (Howard) Iriyama
---
Sample
The Golden Path
Interviews with Disciples of Sri Aurobindo and The Mother
from the Sri Aurobindo Ashram and Auroville
As time progresses there will be many more spiritual aspirants who are called to the yoga of Sri Aurobindo and the Mother. They will never have received Their personal darshan.
Those privileged beings who have actually seen Sri Aurobindo and the Mother and who have received darshan of these two great yogis and dual avatars are becoming fewer in number with each passing year.
For this reason I was inspired during a 1999 visit to Pondicherry to interview two such Ashram elders, Sri Amal Kiran and Sri Udar Pinto, the latter of whom has since passed on. Upon returning to the U.S., after my 1999 visit, their two interviews were published in the American journal Collaboration and in the East-West Cultural Center's online journal called Jyoti. The response from readers was so positive that I returned to India in 2000 and 2002 to complete ten more interviews with a grant made possible to me by the Foundation for World Education. The idea for a book of these interviews developed during the course of my visits to the Ashram and Auroville.
During my four years of residence in Pondicherry and Auroville I had always been deeply touched by the inner light that radiated from those beautiful souls who had come there to practice the Integral Yoga. They had left their countries of origin and other parts of India to live there and to surrender their former lives to the spiritual life of the Ashram. In this book, I wanted to tell their stories. I wanted The Golden Path to serve as an exalting and inspirational experience as it shares the inner revelations of these twelve disciples who have lived in the Ashram or Auroville for many years and whose lives were dramatically changed by their meetings with Sri Aurobindo and the Mother.
In this regard I feel that the book takes on something of a biblical perspective. How many through the centuries could have come to revere Jesus Christ to such an extent without his advent having been chronicled by his disciples?
The interviews could have continued, for there are many more worthy individuals, but I stopped at twelve and have chosen a diversified group of six men and six women from Indian, European and American backgrounds.
The account by these extraordinary people of their personal experiences, their meetings with Sri Aurobindo and the Mother and their practice of the Integral Yoga, under the guidance of Sri Aurobindo and the Mother, is enlightening and uplifting. During my time with them I felt Their palpable and powerful presence and received my own personal darshan.
It is my hope for everyone who reads The Golden Path that they, also, will experience some aspect of a personal darshan.
---
About Author: Anie Nunnally
Anie Nunnally was a long-time disciple of Sri Aurobindo and The Mother who is well known in the Sri Aurobindo community for her dedication and has held a number of responsible positions in organizations advancing their work. From 1968 to 1972 she lived at the Sri Aurobindo Ashram and Auroville practicing Sri Aurobindo's yoga under The Mother's living guidance. Her name, 'Anie', was given to her at this time by The Mother, with whom she was closely associated through letters and both public and private darshans. At this time she also formed many deep and abiding friendships with other members of the Ashram, which she has drawn upon in these interviews.
https://auro-ebooks.com/wp-content/uploads/2018/06/Anie-Nunnally-The-Golden-Path-sq250.png
250
250
Website Visitor
https://auro-ebooks.com/wp-content/uploads/2023/06/auro-ebooks-logo.png
Website Visitor
2018-06-24 07:23:12
2019-09-12 06:48:59
The Golden Path: Interviews with Disciples of Sri Aurobindo and The Mother by Anie Nunnally