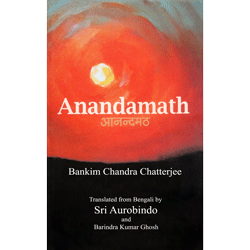 Anandmath
Anandamath, dello scrittore bengalese Bankim Chandra Chatterjee del secolo XIX, è il romanzo dell'insurrezione del popolo hindu contro il dominio dei Musulmani e Inglesi, avvenuta nella seconda metà del 1700. Gli Inglesi erano allora in fase ascendente per il pieno dominio dell'India. Il popolo soffriva la fame, subiva patenti vessazioni dai governanti, era costretto a pagare ingenti tasse, così si ribellò. Chi lo guidò furono degli illuminati Sannyasin – uomini e donne erranti che hanno rinunciato ai beni materiali per trovare Dio, secondo l'Induismo. Il Sannyasin viene a conoscere Dio dunque viene a conoscere il proprio vero Sé: la sua coscienza s'espande a tutto il creato e si fa carico del bene e male di esso. Egli è mosso dall'amore verso tutti gli esseri. Il Sannyasin del romanzo non è tuttavia un rinunciatario della vita materiale: si butta con tutto il cuore nell'azione anche cruenta per alleviare le sofferenze del popolo.
Bankim sa entrare nella psiche dei protagonisti, ne svela i moti interiori, così aggiungendo alla vividezza dei fatti esteriori, a volte impietosi, i colori dell'anima. E il lettore ne beneficia , in quanto non può esimersi dal confrontarli con le proprie pulsioni interiori.
Sri Aurobindo, il pioniere della libertà dell'India dal giogo britannico prima e del futuro glorioso dell'umanità poi, di ritorno dall'Inghilterra (nel 1893) scrisse degli articoli su Bankim, che testimoniamo dell'influenza su di lui, per la virtù letteraria e specificatamente per Anandamath, il suo spirito e fuoco rivoluzionario, di opposizione costi quel che costi alla schiavitù di stranieri. E per entrare più a fondo e presto in quello spirito egli tradusse buona parte del romanzo. Il canto Bande Mataram, parte del libro, divenne grazie a Sri Aurobindo il motto e grido di libertà del popolo indiano agli inizi del 1900, ben prima della liberazione.
The attached work is the Italian translation of book Anandamath by Bankim Chandra Chatterjee, from the English version of Sri Aurobindo and his brother Barin, as issued by Auro-ebooks.
---
Book Details
Author: Bankim Chandra Chatterjee
Translation into Italian: Giancarlo Pedralli
Print Length: 120
Original source:
Submitted by: giancarlo PEDRALLI
Book format: Pdf
Language: Italian

---
Book Download
https://auro-ebooks.com/wp-content/uploads/2016/03/Anandamath-cover250sq.png
250
250
Website Visitor
https://auro-ebooks.com/wp-content/uploads/2023/06/auro-ebooks-logo.png
Website Visitor
2023-01-05 23:34:10
2023-01-05 23:36:41
Anandmath (Italian)