At the Feet of the Mother and Sri Aurobindo by Sahana Devi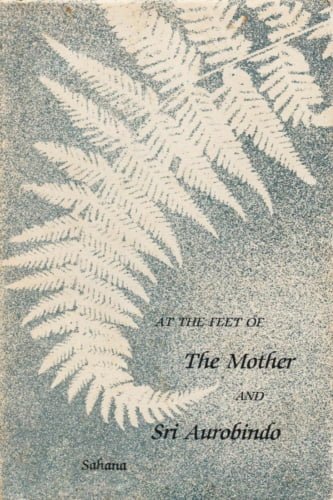 At the Feet of the Mother and Sri Aurobindo
This book is of reminiscences of Sahana who has been living in the Sri Aurobindo Ashram for more than 56 years at the feet of the Mother and the Master. It was originally written in Bengali. Amal Kiran (K. D. Sethna) was eager to publish an English translation in the Ashram's Monthly Review of Culture, Mother India, edited by himself. At his request Nirodbaran kindly agreed to translate it. After everything had been arranged, the author sent to Mother India many more letters of Sri Aurobindo's in answer to questions asked by her, which were not in the original Bengali book.
---
Book Details
Author: Sahana Devi
Print Length: 196
Publisher: Sri Aurobindo Ashram
Submitted by: Sergei
Book format: Pdf, ePub, mobi (Kindle)
Language: English

---
Book Download
---
Contents
Publishers' Note
Foreword
I
II
III
Sri Aurobindo's Letters
IV
---
Sample
At the Feet of the Mother and Sri Aurobindo
A story of long, long ago. It is half a century since I came to Sri Aurobindo, Pondicherry. Thenceforth I have been living in this hallowed place, the pilgrim-home of the Mother and Sri Aurobindo.
Myself and Dilip arrived here on 22nd November 1928. Till then many warring thoughts and feelings had crowded into my mind. But when I stepped into the Ashram, I saw that the mind had become quiet, free from fears and anxieties and was prepared to accept. I found myself gradually at home in the sacred precincts of the Ashram, though everything was still unfamiliar and strange. But the distance soon vanished and by the Grace of the Mother's and Sri Aurobindo's touch, a new world came to light which was reflected in the lives of the inmates. I perceived that a new consciousness was seeking an opportunity to be born at every instant.
Inspired by the unique teachings of the Mother and Sri Aurobindo, my journey started leading through an unaccustomed path to an unknown world, gathering on the way various rich experiences and insights, as the consciousness opened itself to new horizons of mystic beauty and wonder. I could perceive clearly that many veils were being lifted, what had been obscure became lucid and an awareness of many things hidden before took shape.
On my arrival I thought there were altogether 60-70 inmates, the number of women being about 12 to 14. There were no children; but I noticed one or two teen-age girls, one of whom lived for some time in the same house where I had been given a room when I had first come. The great devotion I once saw in this small girl gave me a thrilled experience which I shall now narrate.
A few days after I had come, I obtained two photographs of the Mother and Sri Aurobindo in order to keep them in my room. I had a very beautiful photo frame with me; the Mother's picture did not fit it, while Sri Aurobindo's was all right in every way except that it was slightly taller. So without any qualms I cut off some portion of the lower part of it and fitted it into the frame. We often take such liberties in the case of friends and relatives and do not feel at all uneasy about it, but I did not realise that to put these friends' and relatives' photos on the same level as those of the Mother and Sri Aurobindo was a big error of inner perception. That is why I could pare off and throw into the dust-bin the image of the very feet we had come to adore! It was a photo, no doubt, but the photo of the Avatar's feet!
That small girl came one day to my room and was very pleased to see Sri Aurobindo's picture in that frame, but when she heard what I had done, she was startled and tears began to roll down her cheeks. With an anguished voice, she said, "How could you cut and throw away Sri Aurobindo's feet?" I was stunned, gazed at her face and saw what love and devotion were shining there. I fathomed the gulf of difference between her and me. She opened my eyes that day.
…
https://auro-ebooks.com/wp-content/uploads/2022/02/At-the-Feet-of-the-Mother-and-Sri-Aurobindo-by-Sahana-Devi_350sq.png
350
350
Auro e-Books
https://auro-ebooks.com/wp-content/uploads/2023/06/auro-ebooks-logo.png
Auro e-Books
2022-02-06 03:32:49
2022-02-06 03:32:49
At the Feet of the Mother and Sri Aurobindo by Sahana Devi