AUROVILLE: The first six years 1968-1974 by Savitra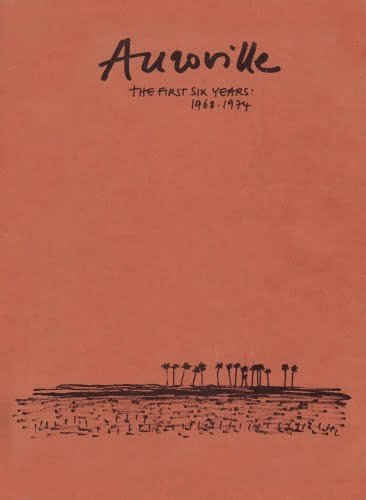 AUROVILLE: The first six years
1968-1974
"Auroville, the first 6 years – 1968-1974" written by Savitra is one of only two records of what was happening on the Auroville plateau during the first 6 years of its creation.
---
Book Details
Author: Savitra
Print Length: 102 pages
Publisher: Auropublications
Original source: Auroville Archives
Contributors: Gilles Guigan
Book format: PDF, ePub, Kindle
Language: English
---
Book Download
---
Contents
DECONDITIONING
GROUND AND BACKGROUND
SET AND SETTINGS
COMMUNITIES: THE SCATTERING OF THE SEEDS

Promesse; Forecomers; Auroson's Home; Udavi; Hope; Aspiration; Peace; Kottakarai; Utilité; Fraternity; Fertile-Two Banyans; Pitchandiculam; Beach Communities; Emergent Communities

EDUCATION
ECOLOGY

Alternative Environments; reforestation; biological agriculture; conservation of water resources; Alternative Energy and Waste Recycling; Alternative Foods; Alternative Housings

AUROVILLE AND THE INDIGENOUS PEOPLE, THE TAMILS

Work as the Medium; Constructions as the media; Abri; Land as the media; Tamil-ecology; Art as the medium; Aurocreation; Villages

CULTURAL AND ARTISTIC EXPRESSION
WORK: INDUSTRIAL AND AGRICULTURAL

Industries and Services; Toujours Mieux; Auropolyester; Auropress; Matrimandir workshop; Auroville Bakery; Auroville Handmade Paper; Auroelectronics; Takshanalaya; Abri; Agriculture: Auro-orchard, the Dairy, Annapurna

HEALTH HYGIENE AND NUTRITION
TRANSPORTATION AND ROADS
THE CENTERING OF THE CITY

Matrimandir; the Gardens of the Matrimandir

ARCHITECTURE, PLANNING AND NON-PLANNING
TOWARDS A NON-ECONOMIC SOCIETY
GOVERNMENT AND COLLECTIVE ORGANISATION
CONCLUSIONS AND INCONCLUSIONS
APPENDICES

Map; census data; UNESCO Resolutions
---
Sample
AUROVILLE: The first six years
GROUND AND BACKGROUND
There should be somewhere upon earth a place that no nation could claim as its sole property, a place where all… could live freely as citizens of the world…
A Dream, the Mother
There should be such a place. But there has not been. Isolated attempts have been scattered here and there through the human cycle, succumbing swiftly on more stubbornly to their exclusiveness. Generally they have been movements away from rather than confronting, suppressive rather than transformative. Generally they have been sectarian, following some religious or social doctrine, some formula, some path, some way prescribed and preconceived. But they have, in their rough and primitive translations, represented a persistent dream of man – a dream which the child in him has cherished and the o1d man denied – a dream of a utopia.
Through the past, the o1d man seems to have dominated. Utopia has come to be equated with a foolishness, a folly, a fantasy irrelevant to the mundane reality and its all-absorbing demands. But with the present precarious state of that reality – the world, its humanity, its environment and resources it is no longer a matter of semantics but survival. Utopia has become an imperative.
In mid-February of 1968, Vincenzo, a young Sicilian living at Promesse (vide Communities) was asked to do the marble mosaic for a lotus-shaped urn to be used in Auroville's foundation ceremony on the 28th. Though he had never done marble-work before (perhaps it was assumed because he spoke Italian?), he accepted the challenge. During the next two weeks, he had cut 13,000 pieces, fitting the puzzle together the evening before the 28th. The following day, children from 124 nations and the states of India ascended a narrow spiral at the centre of the unborn city and placed handfuls of earth from their motherlands into the urn, while Vincenzo, exhausted by his labour, slept.
…
https://auro-ebooks.com/wp-content/uploads/2019/06/Savitra-Auroville-The-First-Six-Years-cover250sq.png
250
250
Auro e-Books
https://auro-ebooks.com/wp-content/uploads/2023/06/auro-ebooks-logo.png
Auro e-Books
2019-06-09 15:43:25
2020-08-05 02:04:10
AUROVILLE: The first six years 1968-1974 by Savitra