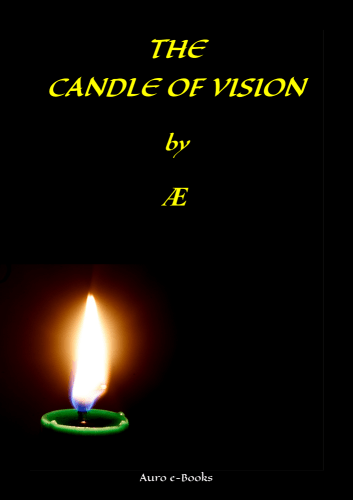 The Candle of Vision
In Letters on Poetry and Art, Sri Aurobindo spoke of A. E. many times as a poet and a mystic. In a letter dated 5 February 1932, Sri Aurobindo said:
"A. E.'s remarks about "immensity" etc. are very interesting to me; for these are the very words, with others like them, that are constantly recurring at short intervals in my poetry when I express, not spiritual thought, but spiritual experience. I knew perfectly well that this recurrence would be objected to as bad technique or an inadmissible technique; but this seems to me a reasoning from the conventions of a past order which cannot apply to a new poetry dealing with spiritual things. A new art of words written from a new consciousness demands a new technique. A.E. himself admits that this rule makes a great difficulty because these "high light" words are few in the English language. This solution may do well enough for him, because the realisations which they represent are in him mental realisations or intuitions occurring on the summits of the consciousness, rare "high lights" over the low tones of the ordinary natural or occult experience (ordinary, of course, to him, not to the average man), and so his solution does not violate the truth of his vision, does not misrepresent the balance or harmony of its natural tones. But what of one who lives in an atmosphere full of these high lights—in a consciousness in which the finite, not only the occult but even the earthly finite is bathed in the sense of the eternal, the illimitable and infinite, the immensities or intimacies of the timeless. To follow A.E.'s rule might well mean to falsify this atmosphere, to substitute a merely aesthetic fabrication for a true seeing and experience. Truth first—a technique expressive of the truth in the forms of beauty has to be found, if it does not exist. It is no use arguing from the spiritual inadequacy of the English language; the inadequacy does not exist and, even if it did, the language will have to be made adequate. It has been plastic enough in the past to succeed in expressing all that it was asked to express, however new; it must now be urged to a new progress. In fact, the power is there and has only to be brought out more fully to serve the full occult, mystic, spiritual purpose."
This book by Irish author, poet, painter and mystic George William Russell, is a set of transcendent essays on Celtic mysticism. Known by his pen name AE (which is short for Aeon), Russell was friends with many other figures of the Celtic renaissance of the early 20th century, including Y.B. Yeats, and James Stephens.
The Candle of Vision describes Russells' luminous excursions into the otherworld, including clairvoyant and prophetic visions, precognition of Gnostic concepts, past-life and astral journeys, and, always, heightened awareness of the beauty that pervades mundane reality. Russell describes encounters with what today we would call UFOs, and attempts to construct a private Kabala based on an intuitive reconstuction of a primal language and alphabet. Lastly, he attempts to put a mystical gloss on the primeval Celtic pagan deities. Lovers of Celtic lore and ecstatic mystic literature will both find much to enjoy in this short book.
https://auro-ebooks.com/wp-content/uploads/2016/12/A5-Cover-250.png
250
250
Auro e-Books
https://auro-ebooks.com/wp-content/uploads/2023/06/auro-ebooks-logo.png
Auro e-Books
2016-12-07 18:03:25
2019-05-05 03:02:04
The Candle of Vision