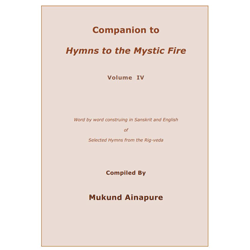 Companion to "Hymns to the Mystic Fire" (Vol.4) by Mukund Ainapure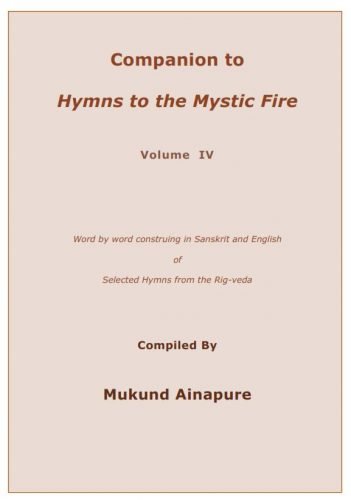 Companion to Hymns to the Mystic Fire
Volume IV
Companion to Hymns to the Mystic Fire is meant as an aid to the systematic study of Hymns to the Mystic Fire (Volume 16 – The Complete Works of Sri Aurobindo – CWSA -, Sri Aurobindo Ashram Publication Department, Pondicherry, 2013) for those interested in Sri Aurobindo's mystical interpretation of the Veda.
It provides the original Sanskrit verses (Riks) from the Rig Veda in Devanagari (without accents), translated and cited by Sri Aurobindo in Hymns to the Mystic Fire. The compiler has provided the Padpātha (in Devanagari as well as Roman Transcription) under each verse in which all euphonic combinations (sandhi) are resolved into the original and separate words and even the components of compound words (samās) indicated; and matched each Sanskrit word in the Padpātha with the corresponding English word in the Translation using superscripts. Footnotes, Explanatory Notes, and Synopsis of every Hymn based on Sri Aurobindo's writings are given wherever available. The Appendix lists all the 'Epithets' of Agni from the Volume.
In the Foreword to the first edition of Hymns to the Mystic Fire, (1946) Sri Aurobindo stated that ".…to establish on a scholastic basis the conclusions of the hypothesis (mystical interpretation) it would have been necessary to prepare an edition of the Rig-veda or of a large part of it with a word by word construing in Sanskrit and English, notes explanatory of important points in the text….." This compilation series is a humble attempt in providing such 'word by word construing in Sanskrit and English' of selected verses of the Rig Veda with 'explanatory notes'.
Sri Aurobindo has said that – Throughout the Veda it is in the hymns which celebrate this strong and brilliant deity [Agni] that we find those which are the most splendid in poetic colouring, profound in psychological suggestion and sublime in their mystic intoxication (The Secret of the Veda, Vol.15 p.390). Hope the following pages provide a glimpse of the splendid, the profound and the sublime in these mystic hymns to this brilliant deity.
---
Book Details
Author: Mukund Ainapure
Print Length: 248
Publisher: Mukund Ainapure
Original source:
Submitted by: Mukund Ainapure
Book format: Pdf
Language: English

---
Book Download
---
Contents
Mandala Seven
Vasishtha Maitravaruni
Sukta 1
Sukta 2
Sukta 3
Sukta 4
Sukta 5
Sukta 6
Sukta 7
Sukta 8
Sukta 9
Sukta 10
Sukta 11
Sukta 12
Sukta 13
Sukta 14
Sukta 15
Sukta 16
Sukta 17
Mandala Eight
Vatsa Kanwa
Sobhari Kanwa
Vishwamanas Vaiyashwa
Shyavashwa Atreya
Nabhaka Kanwa
Virupa Angirasa
Bharga Pragatha
Suditi And Purumilha Angirasa
Haryata Pragatha
Gopavana Atreya
Virupa Angirasa
Ushanas Kavya
Prayoga Bhargava
Sobhari Kanwa
Mandala Ten
Trita Aptya
Sukta 1
Sukta 2
Sukta 3
Sukta 4
Sukta 5
Sukta 6
Sukta 7
Trishiras Twashtra
Havirdhana Angi
Vimada Aindra or Prajapatya or Vasukrit Vasukra
Vatsapri Bhalandana
Devas and Agni Sauchika
Sumitra Vadhryashwa
Agni Sauchika or Vaishwanara or Sapti Vajambhara
Payu Bharadwaja
Aruna Vaitahavya
Jamadagni Bhargava or Rama Jamadagnya
Upastuta Varshtihavya
Chitramahas Vasishtha
Agni Pavaka
Mridika Vasishtha
Ketu Agneya
Vatsa Agneya
Samvanana Angirasa
https://auro-ebooks.com/wp-content/uploads/2020/06/Companion-to-Hymns-to-the-Mystic-Fire-vol4-cover250sq.png
250
250
Auro e-Books
https://auro-ebooks.com/wp-content/uploads/2023/06/auro-ebooks-logo.png
Auro e-Books
2020-06-24 02:10:38
2020-11-10 23:43:09
Companion to "Hymns to the Mystic Fire" (Vol.4) by Mukund Ainapure