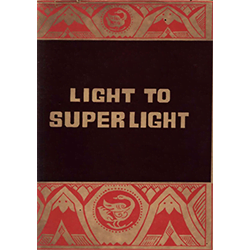 Light to Superlight
There are twenty-six letters in this series, written between 1912 and 1921, all addressed to Sri Motilal Roy except the second one, which was to Anandrao. Sri Aurobindo's letters of this period are not only of gripping national interest to his countrymen, but are of vaster importance to a greater humanity that could read in them the extraordinary evolution of a meteoric patriot-politician emerging out of his ten years' veil to become the renowned architect of The Life Divine. It may be helpful to unknowing readers better to understand the situation in which he wrote those letters, with a little contextual preliminary background, which we shall try to supply here, briefly.
---
Book Details
Author: Arun Chandra Dutt
Print Length: 245
Publisher: Sri Krishna Prosad Ghosh from Prabartak Publishers
Original source: http://motherandsriaurobindo.in/
Submitted by: Blindshiva
Contributors: Blindshiva
Book format: Pdf
Language: English

---
Book Download
---
Contents
DEDICATION
FOREWORD
LETTERS OF SHREE AUROBINDO
Notes on letter 1
Notes on letters 2 thru 9
EPISTLES OF THE MASTER
Letter No. 1
Letter No. 2
Letter No. 3
Letter No. 4
Letter No. 5
Letter No. 6
Letter No. 7
Letter No. 8
Letter No. 9
Letter No. 10
Letter No. 11
Letter No. 12
Letter No. 13
Letter No. 14
Letter No. 15
Letter No. 16
Letter No. 17
Letter No. 18
Letter No. 19
Letter No. 20
Letter No. 21
Letter No. 22
Letter No. 23
Letter No. 24
Letter No. 25
Letter No. 26
APPENDIX—A
APPENDIX—B
APPENDIX—C
APPENDIX—D
APPENDIX—E
APPENDIX—F
GLOSSARY
---
Sample
Light to Superlight
Shuddhi is the most difficult part of the whole Yoga, it is the condition of all the rest, and if that is once conquered, the real conquest is accomplished. The rest becomes a comparatively easy building on an assured basis,—it may take longer or shorter, but it can be done tranquilly and steadily. To prevent the shuddhi the lower nature in you and around you will exhaust all its efforts, and even when it cannot prevent, it will try to retard. And its strongest weapon then is, when you think you have got it, suddenly to break in on you and convince you that you have not got it, that it is far away, and so arouse disappointment, grief, loss of faith, discouragement, depression and revolt, the whole army of troubles that wait upon impure Desire. When you have once found calm, peace of mind, firm faith, equality and been able to live in it for sometime, then and only then you may be sure that shuddhi is founded; but you must not think it will not be disturbed. It will be, so long as your heart and prana are still capable of responding to the old movements, have still any memory and habit of vibrating to the old chords. The one thing necessary when the renewed trouble comes, is to stand back in your mind and will from it, refuse it the sanction of your higher being, even when it is raging in the lower nature. As that habit of refusal fixes itself,—at first you may not be able to do it, the buddhi may be lost in the storm,—you will find that the ashuddhi, even though it still returns, becomes less violent, more and more external, until it ceases to be anything more than a faint and short-lived touch from outside and finally comes no more. That is the course it has followed with me, not only with regard to this kind of disturbance, but with regard to all imperfections. You, since you have chosen to share my Yoga for mankind, must follow the same way, undergo the same disturbances.
https://auro-ebooks.com/wp-content/uploads/2018/03/Light-to-Superlight_250sq.png
250
250
Blindshiva
https://auro-ebooks.com/wp-content/uploads/2023/06/auro-ebooks-logo.png
Blindshiva
2018-03-20 08:12:29
2019-05-05 02:28:39
Light to Superlight