Poems of Devotion and Stillness by Rod Hemsell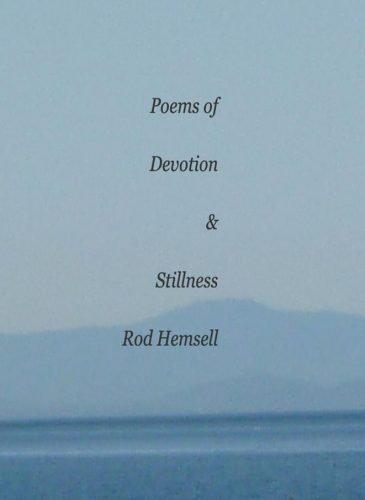 Poems of Devotion and Stillness
In reviving these earlier poems and images of mine, composed between the age of 25 and 65, I recognize an implicit belief in the ability of poetic speech and consciousness to convey in a vivid way our inner connection with "nature" – in and around us – and to express the 'reality' of both nature and our experience. At best it may also express other realities that transcend both nature and experience, such as the idea that stones have eyes and ears, and our lives are influenced by celestial beings. This belief in poetry implies as well that language and consciousness are more than mere 'representations' of reality: they are faculties that resonate with nature and experience in a way that reveals a deeper symbolic identity or close kinship between the two poles of reality. This may be a naive belief, no doubt, but it also has its roots in the much earlier Vedic notions about language and truth. Being inspired by Sri Aurobindo and the Mother, my hope is that something of the truth of those notions will be seen, heard, and felt by the reader. It is this same consciousness applied to contemporary environmental issues that has also informed the fantasy-essay on climate change, Cloning the Earth, written ten years ago but more relevant than ever and likely to be better understood, today.
And yet, while these may be universal truths of 'poetry' and 'consciousness', or at least reasonable theories, I also realize that these poems are the record of unique moments of my life and my experience. As such, they are a very personal effort to express what I have seen, felt, and understood to be their true nature and quality (swabhava). It may be said that the unstated theme is the unification of self and nature through symbolic speech. The drive to write in this way has made both self and nature more real.
Rod Hemsell
February, 2020
---
Book Details
Author: Rod Hemsell
Print Length: 109
Publisher: Auro e-Books
Contributor: Edith Stadig, Krishna
Book format: Pdf
Language: English

---
Book Download
---
Contents
1. Devotion
Hymns
Prayers
Poems and Symbols
Rama and The Golden Deer
The Fate of Prometheus
The Artist Before Dawn and The Dream Of Victory
Three Love Poems and a Reflection
Poems from Auroville
The Force of The Universe
Sri Aurobindo Appears
2. Stillness
Turning point
ON SILENT ICY PEAKS OF POETRY
Mountain Maya
AMADO PENA
Granite Water Wind Sand
Wakon cha
Dance of dream
Love's Web
To Love
Eight Haikus and Four Paintings
A thousand metres an hour (Pondicherry reflections – 1)
Two hundred metres (Pondicherry reflections – 2)
Zen shakti
Tree sight
Three paintings and a mantra
Verite Haikus
Light and Shadow (a meta-rap)
CLONING THE EARTH
Kuan Yin
SEASON'S CHANGE
Natural religion haikus
Tejas Narayani
Aerial haikus
Sunday-Monday haikus
---
Sample
Poems of Devotion and Stillness
HYMNS
1
O source of peace and light and bliss
O immortal shining flame
Kindle in us thy boundless truth and love
Make rich our offerings to thee
With thy radiance from above.
O bright morning chariot
O fountain of delight
Carry us into thy waters
And bathe us in thy light
Deliver us into the hands
Of the Mother of the Dawns
And her streams of glistening white.
2
O throned child of truth
O ray of blazing light
Reveal to us the secret of thy might
Lead us to the Master of the Universe
Establish for us the kingdom of delight.
Divine Mother, Supreme Power
Destroyer of desire
Blast the mountainous darkness from our skies
Melt the clouds of ignorance
With thy sweet and luminous fires
Transform us with thy all-perfecting energies.
3
O deep and glowing golden flame
O silent voice within
Awaken the world and speak the name
Let the new begin
Open the heart of every man
To the wonder of thy gleam
Mother of the dawn divine
Sing the word and bring the day supreme.
Ocean of oneness, Heaven of bliss
Realm of utter brightness
Descend to earth and fill the soul
With infinite peace and wideness
Press the ego out of existence
And end its evil reign
Pour down thy presence
On the trivial and inane.
4
O Ineffable Will
O Goddess of Truth Eternal
Manifest in us thy conscious force
Let us work for thee
With a vision free and pure
To bring to birth the powers of the future.
https://auro-ebooks.com/wp-content/uploads/2020/07/Poems-of-Devotion-and-Stillness-cover250sq.png
250
250
Auro e-Books
https://auro-ebooks.com/wp-content/uploads/2023/06/auro-ebooks-logo.png
Auro e-Books
2020-07-05 07:27:15
2020-07-05 10:38:41
Poems of Devotion and Stillness by Rod Hemsell