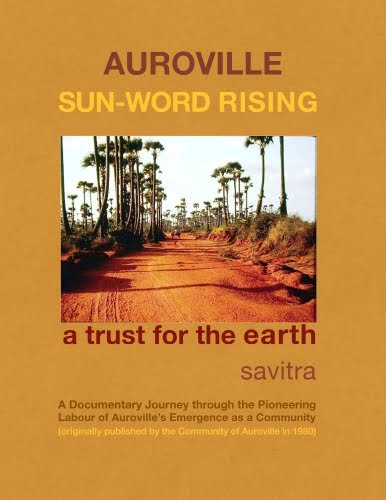 Auroville: Sun-Word Rising
A Trust for the Earth
Few people today — even those who presently live in Auroville or serve on AVI Boards — know the actual history of Auroville's emergence. And unfortunately, records of that unique era have largely been lost in time. Auroville: Sun-Word Rising, originally published by the Community of Auroville in 1980, was an honest attempt to chronicle that AV timeline when the Mother was still physically present as well as the period which followed Her passing. Based on extensive notes and documentation, the book strives to tell a truer story that needed to be told despite those who wished to silence it. For it fills in the missing links that can help us understand how Auroville arrived at where it is today. After all, if we don't know our past, how can we understand our present, heal past wounds, cocreate a truer future?
The opening passages of this 3-Part work begin in America, tracking the author's personal quest through the 1960s that eventually led him to the works of Sri Aurobindo and the Mother… Which in turn led him to London where he began his odyssey, hitchhiking to India to meet the Mother. That meeting led him to stay on in India. And soon after, the Mother accepted him into the Ashram, then into Auroville where he joined that first wave of pioneers scattered like seeds on a barren red-clay plateau. Part 2 transitions through a tale of two Aurovilles: The Auroville rising forth under the Mother's nurturing Presence. And the Auroville labouring to carry on its mission through the grief of Her passing and the unforeseen crises and conflicts that would follow Her passing.
For indeed, despite the obstacles and oppositions which that fledgling AV Community faced, it courageously laboured on, bringing new life to that arid plateau, establishing settlements, schools, farms and the beginning of a reforestation programme that would eventually transform a dying landscape into lush tropical forests. It would also evolve a home-grown decision-making process that would be severely challenged by outside forces following the Mother's passing (as Parts 2 and 3 document). Those challenges would eventually lead to a Government intervention in 1980, followed by a Supreme Court Case and the eventual Auroville Foundation Act passed by Parliament in 1988. In this light, perhaps Auroville's first decade reflects a microcosm of the pressing evolutionary challenges our species and planet face today.
---
Book Details
Author: Savitra
Print Length: 300 pages
Publisher: The Community of Auroville
Original source: Auroville Archives
Contributors: Gilles Guigan, Krishna V.
Book format: PDF, ePub, Kindle
Language: English
---
Book Download
https://auro-ebooks.com/wp-content/uploads/2019/12/Sun-Word-Rising-cover250sq.png
250
250
Auro e-Books
https://auro-ebooks.com/wp-content/uploads/2023/06/auro-ebooks-logo.png
Auro e-Books
2020-01-01 01:00:01
2023-01-19 19:56:16
Auroville: Sun-Word Rising by Savitra